Features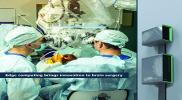 Edge Computing Leverages Modular Power in Scalable Micro Data Centres - May 2022
Edge computing is essential to realizing the full potential of artificial intelligence (AI), machine learning and internet of things (IoT). These technologies are being infused into every corner of...
More details...
Power Electronics Europe News
Power ICs meet multi-national standards
They combine primary - and secondary-switcher circuitry to reduce component count, eliminate slow and unreliable optocouplers, outperform primary - side controllers and slash manufacturing costs, says the company.
Described as a new class of power-supply ICs, they combine primary, secondary and feedback circuits into a single, worldwide safety-rated, surface-mount package.
The power-supply ICs include a high-voltage power MOSFET, primary-side controller, FluxLink feedback technology and a secondary-side controller with synchronous rectification (SR). By combining the SR function with the secondary-side master controller and the fast FluxLink communications, the SR switch timing is optimised for maximum efficiency. The fast communication link eliminates shoot-through in either discontinuous conduction mode (DCM) or continuous conduction mode (CCM), even during transient loads and fault conditions.
InnoSwitch ICs start up using bias current drawn from a high-voltage current source connected to the 'drain' pin, eliminating the need for external start-up components. An external bias winding reduces no-load and increases system efficiency during normal operation. The ICs also include comprehensive system-level features such as output over- voltage protection, overload power limiting, hysteretic thermal protection and frequency jitter to reduce EMI.
They allow designers to exceed all global regulatory standards for efficiency and no-load consumption, while minimising component count and providing highly accurate constant voltage and constant current up to 25W. The ICs can be used for smart mobile device chargers and adapters for set-top boxes, networking equipment and computer peripherals.
Secondary-side direct voltage and current measurements are communicated across the safety isolation barrier using high-speed digital FluxLink technology. This proprietary new feedback technique offers control without a bulky optocoupler, while avoiding the performance compromises inherent in primary-side regulation (PSR), such as limited accuracy and efficiency and poor transient response versus no-load consumption, claims the company.
Secondary-side regulated designs are inherently less sensitive to the tolerance of external components such as transformers, diodes, resistors and capacitors, than primary-side regulated switchers, says the company. This increases manufacturing yield and reduces total power supply cost. To illustrate, the company gives the example of mobile device chargers up to 5A being able to have a total component count as low as PSR designs, with accurate CV and CC control (± 3% and ± 5% respectively) and low voltage ripple. With high operating efficiency and up to 10mW no-load consumption, the ICs comply with efficiency standards such as the California Energy Commission, European Union Code of Conduct (CoC) Version 5, Tier 2, and the upcoming US Department of Energy standards (DoE 6), which will become mandatory in February, 2016.
The first IC, optimised for chargers are sampling now. A reference design RDR-420 describing a 5V, 2A USB charger design is available for download now on the company website.
View PDF