Features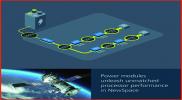 NewSpace demands low voltage, high current power for performance and longevity - Nov 2022
Matt Renola, Senior Director, Global Business Development – Aerospace & Defense
More details...
Power Electronics Europe News
Powerex SiC modules are RoHS-compliant
They include QJD1210010 and QJD1210011 (split dual SiC MOSFET modules) and QID1210005 and QID1210006 (split dual Si/SiC hybrid IGBT modules). RoHS regulations ban new electrical or electronic equipment containing more than the agreed upon levels of specific substances, including lead, cadmium, polybrominated biphenyl (PBB), mercury, hexavalent chromium, and polybrominated diphenyl ether (PBDE) flame retardants. All four modules are rated at 100A/1200V. They can be used in various high frequency applications, including energy saving power systems (fans, pumps and consumer appliances), high-frequency type power systems (UPS, high speed motor drives, induction heating, welding and robotics), and high-temperature power systems (power electronics in electric vehicle and aviation systems).
View PDF