Features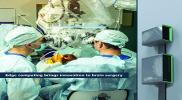 Edge Computing Leverages Modular Power in Scalable Micro Data Centres - May 2022
Edge computing is essential to realizing the full potential of artificial intelligence (AI), machine learning and internet of things (IoT). These technologies are being infused into every corner of...
More details...
Power Electronics Europe News
40V eGaN FET has power density for USB-C battery chargers
The 40V, 3mΩ milliohm eGaN FETs are suitable for applications with demanding requirements for performance in space-constrained form factors including USB-C batter chargers and thin point of load (PoL) converters. They are also suitable for low voltage applications which require fast switching speeds and high efficiency, for example LED lighting, 12 to 24V input motor drivers, and lidar systems for robotics, drones, and autonomous cars.

Alex Lidow, EPC's co-founder and CEO, commented: "The EPC2055 is a very good example of the rapid evolution of GaN FET technology. This 40V device offers both smaller size and reduced parasitics compared with previous-generation 40V GaN FETs and at lower cost; thus, offering designers both improved performance and cost savings."
The company also offers the EPC90132 development board, a 40V maximum device voltage, 25A maximum output current, half bridge with onboard gate drives, which features the EPC2055 eGaN FETs. This 2.0 x 2.0 inch (50.8 x 50.8mm) board is designed for optimal switching performance and contains all critical components for evaluation of the EPC2055 eGaN FET.
Both the EPC2055 and EPC90132 are available to order from Digi-Key.
View PDF