Features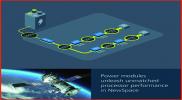 NewSpace demands low voltage, high current power for performance and longevity - Nov 2022
Matt Renola, Senior Director, Global Business Development – Aerospace & Defense
More details...
Power Electronics Europe News
Compact DC power relay protects for storage
Examples of use are pre-charge circuits in electric vehicle chargers and battery back-up systems for solar panels. The relay's high switching capacity and high isolation mean that it is suitable for inrush current control, which contributes to protecting peripheral circuits when a storage battery charging is initiated. This control is also beneficial in energy storage systems, inverters, servos, power supplies and uninterrruptible power supplies (UPS).
The G2RG-X has a 500V DC, 10A switching capacity in a compact body with a footprint of 13.5 x 29.0mm and a height of 26.5mm. Omron attributes these performance parameters to its arc control structure and a 3.0mm contact gap. In addition to a high level of isolation, with an insulation distance of over 8.0mm, the relay's impulse withstand voltage is 10kV between coil and contacts.
Low coil power consumption is just 0.8W. A single coil is used, instead of two, which further reduces energy loss within the device. The relay is designed for two-pole series wiring and has an electrical durability of 10,000 operations in this configuration. The relay is UL- and TÜV-certified.
View PDF