Features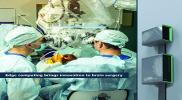 Edge Computing Leverages Modular Power in Scalable Micro Data Centres - May 2022
Edge computing is essential to realizing the full potential of artificial intelligence (AI), machine learning and internet of things (IoT). These technologies are being infused into every corner of...
More details...
Power Electronics Europe News
EN 50155 DC/DC converters simplify design-in
The DC/DC converters have a wide input range of 14 to 160V, to serve a range of rolling-stock applications and high voltage battery-powered systems.
The single-output 40 and 60W quarter-brick converters accept all commonly used supply voltages, from nominal 24 to 110V DC. Other characteristics are basic isolation and a choice of regulated 5.0, 12, 15, 24, or 48V DC output. Sense and trim pins can be used to adjust the voltage by up to ±10%.
The high-efficiency DC/DC converters make battery energy go further while minimising thermal challenges, says the company. The RP40Q-RUW operates at full load without forced air cooling or derating, from -40 to 85°C (-40 to 68°C for the RP60Q-RUW. An optional heatsink extends the maximum temperature to 90°C and 77°C respectively.
For safety and reliability, the enclosures have threaded inserts for secure mounting to withstand high shock and vibration.
The converters are certified to EN 50155 and the EN 45545-2 railway-equipment fire-safety standard, and to EN 55032 and EN 55024 EMC and electromagnetic-immunity standards, EN 60950-1 and the incoming EN 62368-1 hazard-based safety standard.
The RP40Q-RUW and RP60Q-RUW are supplied with a three-year manufacturer's warranty and are available now.
View PDF