Features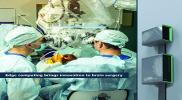 Edge Computing Leverages Modular Power in Scalable Micro Data Centres - May 2022
Edge computing is essential to realizing the full potential of artificial intelligence (AI), machine learning and internet of things (IoT). These technologies are being infused into every corner of...
More details...
Power Electronics Europe News
Intelligent power modules integrate MOSFETs for efficiency
The IM512 and IM513 have been added to the CIPOS Mini family, to comply with specific minimum requirements for global energy efficiency, says the company.
The IPMs help in optimising power efficiency in applications such as compressors, pumps or fans for home appliances. Compared to conventional IGBT IPMs, they offer "significantly lower" conducting and switching losses. They are designed to drive motors up to 600W and described as being especially suitable when a system often operates under light load conditions. Customers can save system cost from reduced total power consumption that enables material cost to be reduced, while maintaining overall efficiency, claims the company. The modules offer low on-resistance of 310mΩ and a current rating of 10A at 25°C, with a breakdown voltage of 600V.
The IM512 module is a full-bridge version and the IM513 is a three-phase inverter configuration. Protection includes a built-in UL-certified negative temperature co-efficient (NTC) thermistor for temperature monitoring, under-voltage lock-out (UVLO), and over-current protection. The IPMs also integrate bootstrap diodes to simplify PCB layout.
The CIPOS Mini CoolMOS family is specified for a maximum operating junction temperature of up to 150°C, it features an isolation of up to 2,000Vrms/min.
Visit Infineon at PCIM 2018 – Hall 9 - 412
View PDF