Features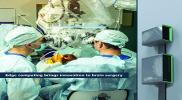 Edge Computing Leverages Modular Power in Scalable Micro Data Centres - May 2022
Edge computing is essential to realizing the full potential of artificial intelligence (AI), machine learning and internet of things (IoT). These technologies are being infused into every corner of...
More details...
Power Electronics Europe News
The silicon controlled rectifier (SCR) switching thyristors series offers circuit designers blocking voltages (VDRM) up to 600V and current ratings from 4.0 to 40A to support a wide range of applications. The operating margin is wider than earlier SCRs, making it possible to tolerate insufficient cooling and higher in-rush currents at start-up.
Typical applications include in-rush current limiters for bulk capacitors in AC/DC systems such as LED lighting and battery chargers, line AC rectifier bridges for LED lighting systems, DC motor controls and battery chargers, soft starters for AC motors and rectifier and battery voltage regulators for AC generators in motorcycles, ATVs, small gasoline engines and gasoline/gas electric generators.
The 150°C junction temperature ensures a wider operating margin, enabling designers to achieve higher performance by replacing existing SCRs with new ones with the same package size Alternatively, they can use the thyristors, which allow the use of smaller heat sinks, to reduce product size by using SCRs in the more compact packages.
The company offers a selection of packages and a robust clip-attach package design to enable high surge capability. SCRs can tolerate high inrush currents and harsher operating conditions for a longer field life, reports the company.
​
The SJ series SCR switching thyristors are available in TO-251AA, TO‑252AA (D-PAK), TO-220 isolated, TO-220AB non-isolated and TO-263 (D2-PAK) packages.
Sample requests may be placed through authorised Littelfuse distributors worldwide.
View PDF