Features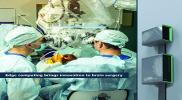 Edge Computing Leverages Modular Power in Scalable Micro Data Centres - May 2022
Edge computing is essential to realizing the full potential of artificial intelligence (AI), machine learning and internet of things (IoT). These technologies are being infused into every corner of...
More details...
Power Electronics Europe News
Controller delivers low standby for connected LED lighting
It has been developed to combine high PFC (power factor correction) with low total harmonic distortion (THD) and low standby power. These characteristics make them well-suited for commercial applications and connected lighting, says the company.
The controller is based on a platform that supports both flyback and buck topology. The controller is designed for primary side regulation (PSR), which removes the need for feedback optically coupled from the secondary side. This delivers efficiency of up to 91%, line and load regulation of 2% over a full range of line and load regulation, and low standby power of less than 0.2W.
According to the company, the PFC above 0.9 and lower standby power than its competitors, enables the controller to operate with an external MOSFET to deliver constant voltage to an LED load. The high power factor is achieved through constant on time operation, while its quasi-resonant mode valley switching method minimises switching losses and contributes to EMI performance.
By exploiting PSR, the complexity of the secondary side is reduced, enabling a smaller overall profile suitable for solid state lighting installations. The output voltage is regulated when operating in constant-voltage mode through feedback provided by an auxiliary winding, coupled to the secondary side winding.
The PFC and THD performance are maintained across a wide input range over a load from 50 to 100%. Other features are low start-up and operating current of 3.0 and 500μA, respectively (typical), combined with Burst Mode operation to meet low standby power system requirements.
There is also output-open protection and output-short protection, as well as over-current, over-voltage and over-temperature protection. Under-voltage lockout is also integrated.
The controller-only version is available now in the SOT26 (SC74R) package. MOSFET regulator options will be released in 2018 and supplied in an SO-7 package. Both versions are lead, halogen, and antimony-free and RoHS- compliant.
View PDF