Features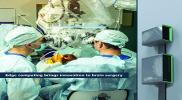 Edge Computing Leverages Modular Power in Scalable Micro Data Centres - May 2022
Edge computing is essential to realizing the full potential of artificial intelligence (AI), machine learning and internet of things (IoT). These technologies are being infused into every corner of...
More details...
Power Electronics Europe News
GaN transistor shrinks form factor compared with MOSFETs
The
EPC2049
gallium nitride (GaN) power transistor from Efficient Power Conversion (EPC)
offers power systems designers a 40V, 5mΩ power transistor, that the company claims is approximately eight times smaller than equivalently rated silicon MOSFETs for point of load converters, light detection and ranging (lidar),
envelope tracking power supplies, class-D audio,

and low inductance motor drives.
The eGaN FET has a voltage rating of 40V and maximum RDS(on) of 5mΩ with a 175A pulsed output current. According to the company, the chip-scale packaging handles thermal conditions better than the plastic packaged MOSFETs, as the heat is dissipated directly to the environment, whereas the heat from the MOSFET die is held within a plastic package.
The transistor measures just 2.5 x 1.5mm (3.75mm2). According to the company, the device marks the progress achieved by GaN transistor technology in terms of performance and cost reduction, particularly closing the gap between GaN and MOSFET technology.
The eGaN FET is available for immediate delivery from distributor Digi-Key.
View PDF