Features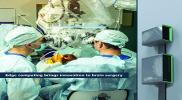 Edge Computing Leverages Modular Power in Scalable Micro Data Centres - May 2022
Edge computing is essential to realizing the full potential of artificial intelligence (AI), machine learning and internet of things (IoT). These technologies are being infused into every corner of...
More details...
Power Electronics Europe News
Battery management is low power for wearables and IoT products
It includes a linear charger, configurable LDO, load switch, buck converter – operating at 1.8V, pushbutton control and battery voltage monitor all in one device. It supports batteries from 3.6 to 4.65V, and fast charge currents from 5.0 to 300mA, allowing wearables and industrial IoT applications to be always-on without draining the battery, says the company.
It allows a host microprocessor or Bluetooth radio to continue running during recharging by not extracting "empty energy." Designers can also achieve the longest battery shelf life as the solution features standby mode quiescent current of 50nA.
The device is offered in a 2.5 x 2.5mm WCSP. For an even more robust solution, says the company, designers can incorporate the CC2640 wireless MCU, claimed to be the industry's smallest QFN package with integrated Flash for Bluetooth Smart.
The I²C programming interface allows designers to set key parameters including battery charger voltage, current, termination threshold, input current limit, load switch control, flexible timer and reset options.
The bq25120 evaluation module, the BQ25120EVM-731, allows customers to evaluate device features and performance.
View PDF