Featured Articles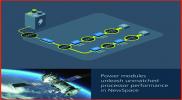 NewSpace demands low voltage, high current power for performance and longevity - Nov 2022
Matt Renola, Senior Director, Global Business Development – Aerospace & Defense
More details...
Welcome to Power Electronics Europe
Power Electronics Europe is the premier publication devoted entirely to the field of power electronics. The journal covers all that is new in power electronics including emerging technologies and the application of advanced components, sub-assemblies, systems and solutions. By clicking on the navigation buttons above you will be directed to the relevant sections within this web site. In the Product Information and Archives sections you will find a host of topics covered - all of which may be searched for by category.


Why gate drivers are key to successful electric vehicle designs - Nov/Dec 2022
Finding the Right Technology to Solve Datacenter Power Challenges - Nov/Dec 2022
Although Silicon (Si) is the most familiar technology, its smaller bandgap limits operating temperature, its low breakdown electric field restricts its use to lower voltages, and its low thermal conductivity limits power density compared to wide bandgap (WBG) materials, like gallium nitride (GaN) and Silicon Carbide (SiC).
Digitization and the rapid deployment of cloud services have boosted the growth of datacenters worldwide. WBG helps to reduce their power consumption.
Read more
How to Design a Thermally Balanced Current-Sharing System for Multi-Phase Power Designs - Nov/Dec 2022
The car of tomorrow is envisioned to be an audiovisual wonderland on wheels, including wraparound screens and dozens of speakers. Driving on the road in the future will immerse passengers in an
incredible sensory experience with content streamed via ultra-fast 5G. To achieve this content-rich, connectivity-heavy paradigm of future mobility, emerging digital cockpit systems continue to demand
exponentially greater computing capability.
Read more
Solving the Current Sensor Footprint Problem when Designing Compact EV Traction Inverters - nov 2022
Electric vehicles (EVs) are said to be the future of transport as the trend for electric mobility moves forward. This article is focused on the challenges of current sensing in high-power integrated traction inverters and highlights the benefits of using compact magnetic core-based sensors. Sofiane Serbouh, Product Manager of Large Drives, LEM, Switzerland
Read more
GaN Power Behind Mild Hybrid Vehicle Electrification - November 2022
The hybrid vehicle market has more than doubled from 2017 from 2.0 to 5.1 percent [1] and by 2025, one of every 10 vehicles sold worldwide is projected to be a 48 V mild hybrid. 48 V systems boost fuel efficiency, deliver four times the power without increasing engine size, and reduce carbon-dioxide emissions without
increasing system costs.
Read more