Features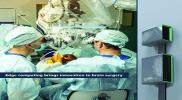 Edge Computing Leverages Modular Power in Scalable Micro Data Centres - May 2022
Edge computing is essential to realizing the full potential of artificial intelligence (AI), machine learning and internet of things (IoT). These technologies are being infused into every corner of...
More details...
Power Electronics Europe Issue Archive
July 3, 2009
With the increased power levels of modern wind turbines, medium voltage generation and power conditioning have become a viable solution for this traditionally low voltage application. The continuous development of Bipolar and BiMOS products enables the medium voltage converter manufacturer to select the power semiconductor based on the application requirements, rather then trying to optimise the converter around a given device or technology. Full story on page 28.

Download Issue Archive