Features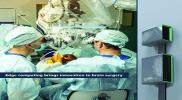 Edge Computing Leverages Modular Power in Scalable Micro Data Centres - May 2022
Edge computing is essential to realizing the full potential of artificial intelligence (AI), machine learning and internet of things (IoT). These technologies are being infused into every corner of...
More details...
Power Electronics Europe Issue Archive
September 4, 2009
SiC has proven to be a good candidate as a material for next generation power semiconductors. To analyse the advantages of SiC based power devices over their silicon counterparts, a high volume and standard application segment such as the 400 to 480VAC line rated motor drives is considered to be ideal. From this viewpoint, the present research work has focussed on 1200V class device technologies. 4H-SiC based MOSFET and SBD structures have been considered to be the best fit device configurations for the targeted application category. New SiC-MOSFET/SBD structures have been developed aiming at high power density applications. Performance details of such newly fabricated SiC devices, along with their evaluation under actual operating conditions, are also introduced.

Download Issue Archive