Features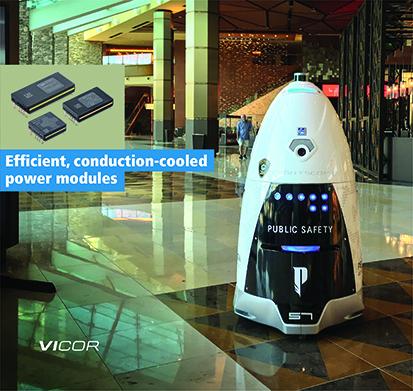 Knightscope's autonomous security robots patrol with superhuman acuity and detection prowess - May 2023
A fusion of innovative robotics, self-driving technology, vehicle electrification and artificial intelligence
More details...
AC/DC power factor correction module offers up to 1,512W
A full brick package developed by TDK-Lambda, the PF1500B-360, is for high voltage distributed power architectures
More details...
Power Electronics Europe News
SWIR LEDs are compact for portable and wearable devices
Claimed to be the industry's smallest class 1608 sized packages with dimensions of 1.6 x 0.8mm, the SWIR series consists of receiving and emitting devices.
SWIR has a longer wavelength than near-infrared, providing greater permeability through different materials while being less susceptible to sunlight, smoke and other particulate matter. Until now, says Rohm, most SWIR devices have been through-hole package types for relatively large applications such as communication equipment and industrial analysers and very few surface mount products available for compact applications.
SWIR is used to detect the presence of substances and their constituent components, using the characteristics of water, ice or gases that absorb specific wavelengths, target applications include light sources for blood oxygen saturation and blood glucose measurement devices in the medical field and measuring the water and sugar content of fruit and vegetables in the food industry. The technology could also be used in sensing applications through OLED panels in portable devices, and wearables devices for health monitoring and other functions, reveals the company.
The compact 1608-size surface mount light emitting / receiving SWIR products are produced using the company's compound semiconductor, visible and near-infrared LED manufacturing technology.
For light emitting, there are 10 LEDs planned in varying package shapes (moulded/lens) and wavelengths (1050nm to 1550nm). For light receiving, there are four photodiode models offered in different packages (1608-size / 20125-size) and photodetector block size.
Samples of SWIR products (light emitters/receivers) based on this technology are available now.
Target applications are sensing through OLED panels in portable devices, health monitoring via wearables/hearables and inspection equipment, such as pharmaceutical analysis and testing the moisture content of food/the human body.


View PDF