Features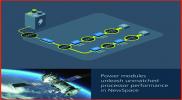 NewSpace demands low voltage, high current power for performance and longevity - Nov 2022
Matt Renola, Senior Director, Global Business Development – Aerospace & Defense
More details...
Power Electronics Europe News
DC/DC converter IC has best-in-class stability for ADAS, says Rohm Semiconductor
The buck DC/DC converter IC is designed for automotive applications such as infotainment and ADAS (advanced driver assistance systems) which incorporate onboard sensors and cameras for safety and accident prevention. ADAS requires power supply ICs that operate with stability even under severe load current fluctuation conditions.
QuiCur follows Rohm's Nano Pulse Control technology which provides low output voltage at high switching frequencies. QuiCur is a high-speed load response technology which allows for stable operation in comparison to automotive secondary DC/DC converter ICs with equivalent performance, says the company.
The BD9S402MUF-C supports output voltages down to 0.6V and 4A output current at switching frequencies higher than 2MHz. The high speed load response technology enables stable operation at 30mV (measurement conditions: 5V input voltage, 1.2V output voltage, 44µF output capacitance, load current variation 0 to 2A/2µs). This translates to a 25% reduction in output voltage fluctuation over standard products with equivalent functionality, says Rohm. The IC is suitable for ADAS with severe power supply conditions requiring stable operation within 5%, even with low voltage output.
The IC also has a new load response performance selection function that allows users to easily switch priority between voltage fluctuation and capacitance reduction (to ensure stable operation at 22µF) via the terminal setting. Users can "significantly reduce" the resources required for power circuit design at the initial design but also during specification or model changes.
In addition to ADAS ECU (engine control units), sensors, cameras and radars in a vehicle, the IC is also suitable for communication systems including wireless modules and gateways, infotainment systems such as clusters and head-up displays (HUDs). It can also be used in an automotive secondary power supplies that employ high performance SoCs, MCUs and DDR memory, advises the company.

The BD9S402MUF-C is sampling now, with mass production due in April 2023.