Features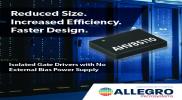 Solving the Challenges of Increasing Power Density By Reducing Number of Power Rails - March 2023
By Andy Wang, Business Line Director, High-Voltage Power Business Unit Allegro MicroSystems
More details...
AC/DC power factor correction module offers up to 1,512W
A full brick package developed by TDK-Lambda, the PF1500B-360, is for high voltage distributed power architectures
More details...
Power Electronics Europe News
Vishay offers high current rectifiers in DFN package
Three automotive-grade, surface-mount standard rectifiers are the industry's first devices in the low profile DFN3820A package with wettable flanks, says Vishay Intertechnology. The 2A SE20Nx, 3A SE30Nx and 4A SE40Nx space-saving, high efficiency rectifiers are for power line polarity protection and rail to rail protection in commercial, industrial, and automotive applications. They are available with reverse voltages of 200V, 400V and 600V.
The first package in Vishay's Power DFN family, the DFN3820A, has a 3.8 x 2.0mm footprint and a low typical height of 0.88mm. According to Vishay General Semiconductor, the rectifiers make more efficient use of PCB space and have optimised copper mass design and advanced die placement technology for thermal performance that enables operation at higher current ratings.
Compared to devices in the SMP (DO-220AA) package with the same footprint, the AEC-Q101-qualified SE20Nx, SE30Nx, and SE40Nx offer a 12% lower profile and double the current rating. They also offer equivalent or higher current ratings to larger devices in the conventional SMB (DO-214AA) and SMC (DO-214AB) packages, as well as the eSMP series SlimSMA (DO-221AC), SlimSMAW (DO-221AD), SMPA (DO-2212BC), and SMPC (TO-2778A).
They have an oxide planar chip junction design, allowing the rectifiers to offer typical reverse leakage current of less than 0.1μA. The low forward voltage drop down to 0.86V to reduce power losses to improve efficiency.
The devices operate over a wide temperature range from -55°C to 175°C and provide ESD capability in compliance with IEC 61000-4-2, air discharge mode.
The rectifiers are suitable for automated placement, the rectifiers offer a MSL moisture sensitivity level of 1, per J-STD-020, LF maximum peak of 260°C. The devices are RoHS-compliant and halogen-free.
Samples and production quantities of the surface-mount standard rectifiers in a DFN3820A package are available now, with lead times of 12 weeks.
View PDF