Features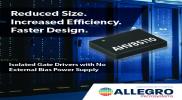 Solving the Challenges of Increasing Power Density By Reducing Number of Power Rails - March 2023
By Andy Wang, Business Line Director, High-Voltage Power Business Unit Allegro MicroSystems
More details...
AC/DC power factor correction module offers up to 1,512W
A full brick package developed by TDK-Lambda, the PF1500B-360, is for high voltage distributed power architectures
More details...
Power Electronics Europe News
Low power AC/DC converters from Recom extend board mount range
The AC/DC power supply has a package size of 1.6 x 2.0 x 1.0 inch or 40 x 52.5 x 25.5mm. The RACM30-K/277 series provides 30W continuous power (36W peak) across an ambient range of -40°C to 60°C in free air and up to 90°C with derating.
The wide input range is 85 to 305V AC (120 to 430V DC) and regulated and fully protected outputs available are 5.0, 12, 15, 24, ±12 and ±15V, rated as 'limited power source'. The class II insulation parts are rated for harsh over-voltage category III (OVC III) and pollution degree 3 (PD3) environments up to 5000m altitude. Safety certifications include audio/video, IT, test equipment, industrial, household, and MOPP medical, with 4kVAC/1 min, rated isolation.
No-load/standby dissipation meets eco-design requirements with near-flat efficiency curves down to light loads and all parts meet 'class B' EMC standards with a wide margin without external components, even with grounded outputs.
The RACM30-K/277 series uses silicon-free encapsulation and the board-mount module has an industry-standard pinout. The parts are optionally available with flying leads or as panel-mounted with clip accessories to enable DIN-rail mounting.
Typical applications for the series include house-keeping power in EV chargers, industrial automation, lighting, IoT, medical, and smart energy systems.
The AC/DC power supplies are covered by a three-year warranty. Samples and OEM pricing are available from all authorised distributors or directly from the manufacturer.
View PDF