Features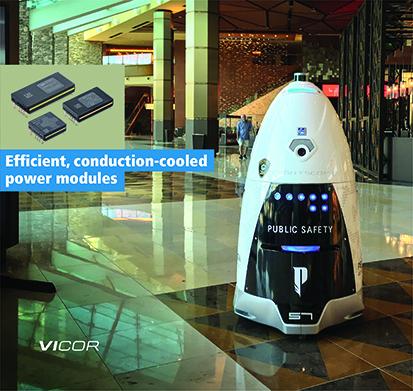 Knightscope's autonomous security robots patrol with superhuman acuity and detection prowess - May 2023
A fusion of innovative robotics, self-driving technology, vehicle electrification and artificial intelligence
More details...
AC/DC power factor correction module offers up to 1,512W
A full brick package developed by TDK-Lambda, the PF1500B-360, is for high voltage distributed power architectures
More details...
Power Electronics Europe News
PCIM Europe 2023 announces its presentation programme
In addition to confirming over 500 exhibitors from more than 30 countries, including the US and China, at this year's exhibition in Nuremberg, the organiser has published the presentation programme which offers visitors a wide range of industry-related topics.
There will be three stages operating as exclusive platforms for knowledge exchange on different focus topics. The Exhibitor Stage will host 20-minute presentations by exhibiting companies on product innovations.
At the Industry Stage, there will be presentations and panel discussions on current research and development topics of the industry. Highlights to look out for are "Progress in Development of GaN Power Devices" and "HV Silicon and SiC Power Semiconductors; Key Components for Sustainable Energy Solutions".
The third stage is located within the E-Mobility & Energy Storage Zone. Here, there will be discussions around electromobility (e-mobility) and energy storage and its capabilities today and in the future. There will also be a networking area for visitors to discuss areas with experts.
There are also live product demonstrations based on e-mobility and energy storage on the stands of 27 exhibitors, including onsemi, STMircoelectronics, Power Integrations and Infineon Technologies.
Alongside the exhibition, there is a conference with over 350 lectures, covering all the topics of the value chain. This year, there are three sessions focused on relevant industry topics. Two are on Wednesday 10 May: Solutions for Future Medium Voltage Grids (09.50 to 11.50am) and Power Electronics for E-Mobility (2pm to 3pm). The third is on Thursday 11 May (09.50 t0 11.10am) – Understanding Losses in Wide Band Gap Power Devices.
Poster presentations will also take place in the NCC Mitte entrance area on all three conference days. Exhibition visitors will also have access to the poster presentations and the opportunity for exclusive 1:1 exchanges with the experts.
PCIM Europe digital, the online platform offering participants the opportunity to catch up on missed presentations from the conference and stages, with access to exhibitor and product profiles will run until 30 June 2023. There will also be live streaming of the conference presentations from Stage Brüssel 1 in Nuremberg.
View PDF