Features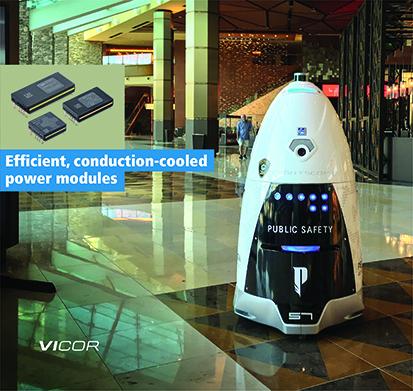 Knightscope's autonomous security robots patrol with superhuman acuity and detection prowess - May 2023
A fusion of innovative robotics, self-driving technology, vehicle electrification and artificial intelligence
More details...
AC/DC power factor correction module offers up to 1,512W
A full brick package developed by TDK-Lambda, the PF1500B-360, is for high voltage distributed power architectures
More details...
Power Electronics Europe News
Mouser signs worldwide distribution agreement with Navitas Semiconductor
Mouser will stock Navitas GanFast and GeneSiC wide band gap (WBG) semiconductor technologies. The GaNFast power ICs integrate GaN power and drive, with control, sensing and protection to enable faster charging, higher power density and energy savings, says Navitas. The complementary GeneSiC power devices are optimised high power, high voltage and high reliability products. Target markets for the pure play semiconductor company's products include mobile, consumer, data centre, electric vehicle, solar, wind, smart grid and industrial sectors.
The signing is timely, as interest grows in power ICs that can help designers produce small, power efficient products. "The pressure on designers and system architects to improve application performance while minimising size and driving down energy use is creating a rapidly growing global demand for efficient and integrated WBG semiconductors," says Navitas's senior vice president of worldwide sales, David Carroll. "Mouser's global reach means this agreement will give electronic design engineers and buyers improved access to the advanced Navitas technologies that are playing a key role in addressing this demand and meeting the needs of a market that is potentially worth $22 billion a year," he adds.
Kristin Schuetter, Mouser's vice president of supplier management welcomes the addition to the company's line card, calling Navitas a "strong industry leader". She believes the combination of easy access to advanced components, backed by the distributor's customer service and logistics will make a "very successful partnership".
View PDF