Features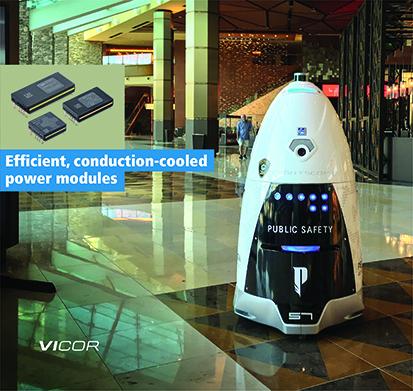 Knightscope's autonomous security robots patrol with superhuman acuity and detection prowess - May 2023
A fusion of innovative robotics, self-driving technology, vehicle electrification and artificial intelligence
More details...
AC/DC power factor correction module offers up to 1,512W
A full brick package developed by TDK-Lambda, the PF1500B-360, is for high voltage distributed power architectures
More details...
Power Electronics Europe News
Enclosed power supply is designed for industrial equipment
The fanless three-phase / three-wire 3500W AC/DC enclosed power supply is optimised for industrial equipment such as high frequency amplifiers, laser processing machines and robotics.
It addresses three-phase delta and three-phase star networks worldwide with a wide input range of 180 to 528V AC. It has energy optimised, digitally controlled switching topology and integrates wide band gap semiconductors, resulting in efficiency of up to 94 per cent at 400V AC.
The HCA3500TF is available in two output voltages, 48 and 65V DC which are adjustable from 33.60 to 55.20VDC using the built-in potentiometer, or from 24.00 to 55.20V DC when using the trimming function.
The compact, low profile design measures just 65mm with the cover (1.5U) and includes an aluminium plate assisting conduction cooling to the dissipating element e.g., a cold wall or water-cooled baseplate. For higher power applications the HCA3500TF can be connected in parallel up to 10 units and to deliver up to 31.5kW.
It is suitable for a range of industrial applications such as welding robots, high frequency amplifiers, tooling machines and electrolysers. The 65V DC model is suitable for powering RF power amplifiers and 60V lithium-ion battery chargers.
A 12V DC/1A auxiliary output can be used for remote on/off and its external control circuit. The auxiliary output is isolated from the input, output and functional ground.
The HCA3500TF includes inrush current limiting circuitry, over-current and over-voltage protection and thermal protection. Exhibiting versatility and robustness, the power supplies can be operated in an ambient temperature range of -10 to 70°C with a 0 to 55°C baseplate temperature. Depending on the final equipment assembly style and cooling conditions, a derating may apply.
For system integration and to reduce conducted noise, the HCA3500TF includes an input filter and complies with the FCC Part15 class A, VCCI class A, CISPR11 class A, CISPR32 class A, EN55011-A and EN55032-A. It also complies with complies with safety requirements UL62368-1, EN62368-1, C-UL (equivalent to CAN/CSA-C22.2 No.62368-1), the RoHS and Low Voltage directives and carries the CE mark and UKCA.
The HCA3500TF has an input to output isolation of 4,243V AC, input to ground (FG) of 2,829V AC and output to ground (FG) of 2,000V AC. It complies with the IEC62368-1, at its rated load and 480V AC, 60Hz, with a maximum leakage current of 3mA.
The HCA3500TF measures 110 x 65 x 420mm (4.3 x 2.6 x 16.5 inches) and weighs 5kg max.
View PDF