Features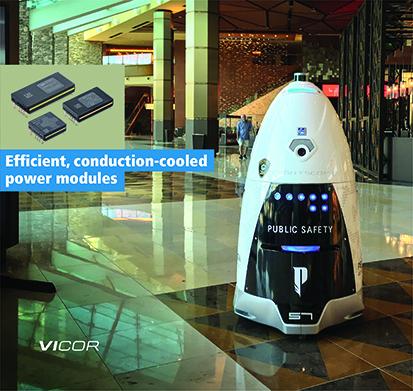 Knightscope's autonomous security robots patrol with superhuman acuity and detection prowess - May 2023
A fusion of innovative robotics, self-driving technology, vehicle electrification and artificial intelligence
More details...
AC/DC power factor correction module offers up to 1,512W
A full brick package developed by TDK-Lambda, the PF1500B-360, is for high voltage distributed power architectures
More details...
Power Electronics Europe News
HybridPack Drive G2 uses new materials in EV traction inverter
The HybridPack Drive G2 offers scalability within the same footprint and extends it to higher power. The HybridPACK Drive G2 will be available with different current ratings, voltage levels (750V and 1200V) and Infineon's next generation chip technologies EDT3 (Si IGBT) and CoolSiC G2 MOSFET.
It has a power range of up to 300kW within the 750V and 1200V classes and introduces features such as an integration option for next-generation phase current sensor and on-chip temperature sensing for system cost improvements. The power module achieves higher performance and power density through improved assembly and interconnect technology, claims Infineon. There is also a new interconnect technology (chip sintering) and new materials are used in the black plastic housing, which nables higher temperature rating.
The first generation HybridPack Drive (G1), introduced in 2017, uses silicon EDT2 technology. It offers a power range of 100kW to 180kW in the 750V class. In 2021, Infineon added the first generation of HybridPack Drive Automotive CoolSiC MOSFETs, which allowed the inverter design to achieve higher power up to 250kW within the 1200V class. This increased driving range, resulted in a smaller battery size and optimised system size and cost, according to the company.
The FS1150R08, FS01MR08 and FS02MR12 are initial members of the new HybridPACK Drive G2. They are in production and available this month. Additional product variants will follow in 2023 and 2024.
The product will be showcased at PCIM Europe 2023 (Hall 7-412), with evaluation kits and design-in support available.
View PDF