Features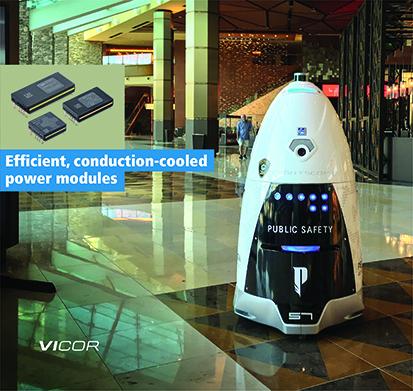 Knightscope's autonomous security robots patrol with superhuman acuity and detection prowess - May 2023
A fusion of innovative robotics, self-driving technology, vehicle electrification and artificial intelligence
More details...
AC/DC power factor correction module offers up to 1,512W
A full brick package developed by TDK-Lambda, the PF1500B-360, is for high voltage distributed power architectures
More details...
Power Electronics Europe News
AOS releases 600V super junction MOSFETs
The 600V MOS7 super junction MOSFETs family is Alpha and Omega Semiconductor's (AOS) next generation of high voltage MOSFETs. The first product released AOK050V60A7 is a 600V 50mΩ MOS7 low Ohmic device with the industry-standard TO-247 package tailored for today's high-power AC/DC, DC/DC and solar inverter stages.
The MOS7 600V family is for single, interleaved, dual boost, totem pole and Vienna PFCs, as well as other hard switching topologies. The optimised capacitance of AOK050V60A7 will provide switching performances, with fast turn-on/turn-off behaviours, while avoiding the risks of self-turn-on or shoot-through.
They are suitable for use in high efficiency and high density needs of a range of applications from servers, workstations, telecomms rectifiers, solar inverters, EV charging, motor drives and industrial power applications.
Today's server power supply requires titanium efficiency, which translates to more than 98.5% peak efficiency on both PFC and LLC stages, explains the company. Active bridges and bridgeless designs can be implemented but switching and driving losses, especially at light load, are challenges faced by designers. Existing technologies limited by large cell pitches and charges can hardly meet such requirements, says the company.
The super junction MOSFETs are robust for low Qrr and Trr for LLC and PSFB applications during transient and abnormal situations.
They are also suitable for solar applications with low Ohmic surface mount devices are becoming the new standard as designers aim for reduced form factors through the use of 3D mechanical and thermal designs.
The MOS7 provides a wide Rds(on) granularity and surface mount package choices, with DFN, TOLL and top cooling variants.
For low Fsw applications such as solid-state relays or active bridges, FETs must meet specific SOA requirements to sustain surge and in-rush currents. According to AOS, the MOS7 ensures low Rds(on) temperature co-efficient and ruggedness for transient voltage and current over-stresses.
The company has announced that it will be releasing 32mΩ, 40mΩ, 65mΩ and 105mΩ devices.
"The new charge balance structure makes it possible to further reduce the active area up to 50%, compared to [the company's existing] MOS5 . . . . In general, MOS7 is an industry-leading high voltage SJ solution designed to address both efficiency-driven and cost-driven markets," said Richard Zhang, senior director of product line and global power supply businesses at AOS.
The AOK050V60A7 is immediately available in production quantities with a lead time of 26 weeks.
View PDF