Features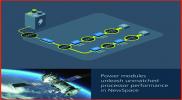 NewSpace demands low voltage, high current power for performance and longevity - Nov 2022
Matt Renola, Senior Director, Global Business Development – Aerospace & Defense
More details...
Power Electronics Europe News
Infineon Second-Sources Panasonic's 600V GaN GIT Power Devices
Both companies will jointly develop Gallium nitride (GaN) devices based on Panasonic's normally-off (enhancement mode gate injection transistor GIT) on silicon into Infineon's SMD packages. Panasonic (http://panasonic.net) has provided Infineon (www.infineon.com) with a license of its GaN transistor structure in order to enable each company to manufacture high performing GaN devices. Thus Infineon is obviously accelerating its GaN activities, on beginning of 2015 the company acquired International Rectifier (IR), one of the inventors of GaN-on-Silicon, for $3 billion. But IR's GaN topology is a normally-on device cascoded with a Si FET to achieve normally-off behavior.
GaN on silicon has been receiving significant attention as one of the next compound semiconductor technologies that will on the one hand enable high power density and therefore a smaller footprint (e.g., for power supplies and adapters), and on the other hand serve as a major key for energy efficiency improvement. In general, power devices based on GaN on silicon technology can be used in a wide range of fields, from high voltage industrial applications such as power supplies in server farms (a potential application of the showcased 600V GaN device) to low voltage applications such as DC/DC conversion (e.g., in high-end consumer goods). According to an IHS market research report the GaN on silicon related market for power semiconductors is expected to grow with a compound annual growth rate (CAGR) of more than 50 %, leading to an expansion of volume from $15 million in 2014 to $800 million by 2023.
The companies will showcase samples of a 600 V / 70 mΩ device in a DSO (Dual Small Outline) package at the trade show Applied Power Electronics Conference and Exposition (www.APEC-conf.org), which will be held in Charlotte, North Carolina, March 15-19, 2015.