Features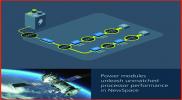 NewSpace demands low voltage, high current power for performance and longevity - Nov 2022
Matt Renola, Senior Director, Global Business Development – Aerospace & Defense
More details...
Power Electronics Europe News
Guide offers DC/DC knowledge
Available free of charge from Dengrove, it features over 200 pages and is a detailed introduction to various DC/DC converter t
opologies, feedback loops (analogue and digital), test and measurement, protection, filtering, safety, reliability, constant current drivers and DC/DC applications.
It is written by Steve Roberts, Recom's technical director, and offers practical tips and technical knowledge on DC/DC power conversion and its applications. It addresses everyone from engineers and designers to students.
The guide is available free-of-charge from Dengrove and can be requested by e-mail : power@dengrove.com
View PDF