Features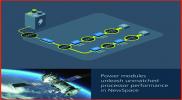 NewSpace demands low voltage, high current power for performance and longevity - Nov 2022
Matt Renola, Senior Director, Global Business Development – Aerospace & Defense
More details...
Power Electronics Europe News
HE-R saves space in EV wall boxes
The 40A printed HE-R relay is designed for three-phase systems and is compact and robust for use in electric vehicle (EV) charging wall boxes. Panasonic Industry says it is the world's first PCB-based relay that can be used as the main switching element in three-phase systems.
Each of the four normally open (NO) contacts is able to switch 40A up to an ambient temperature of 85°C due to the relay's thermal design and low coil holding power of 490mW. An optional normally closed (NC) contact acts as a feedback contact and can handle low level loads down to 10mA / 5V DC.
The relay measures 35 x 58 x 47mm, with a clearance and creepage distance of less than 8.0mm. The ratio of size, power and robustness makes the IEC62955-compliant relay the "perfect choice for contemporary and demanding AC/DC wall box designs", claims Panasonic Industry Europe's Panagiotis Venardos. "In addition to domestic wall boxes, the relay can be used for AC or DC charging stations as well as industrial automation or energy harvesting, adds the company.
View PDF