Features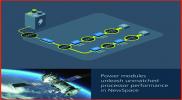 NewSpace demands low voltage, high current power for performance and longevity - Nov 2022
Matt Renola, Senior Director, Global Business Development – Aerospace & Defense
More details...
Power Electronics Europe News
New DPAK Bipolar Junction Transistors for Automotive and Industrial Applications
Nexperia announced on July 29 nine new power bipolar transistors, extending its portfolio of products in the thermally and electrically advantageous DPAK package to cover applications from 2 A to 8 A and from 45 V up to 100 V. The new MJD series parts are pin-to-pin compatible with other MJD devices in DPAK-package, and they also offer significant reliability benefits. Available as automotive-qualified AEC-Q101 devices and industrial grade parts, the new MJD series bipolar transistors are rated at 2 A 50 V (MJD2873/-Q), 3 A 100 V (MJD31CH-Q), 4 A 45 V (MJD148/-Q), and 6 A 100 V (MJD41C /-Q and MJD42C /-Q). The MJD31CH-Q is designed as high gain version. All parts offer class-leading DPAK package reliability performance, with an industry-standard footprint. The bipolar transistors suit a wide range of applications such as LED automotive lighting; backlight dimming in LCD displays; linear voltage regulators; relay replacement; motor drives and MOSFET drivers. ""Nexperia is known as a high volume, high quality supplier for a broad customer base. By widening our MJD series of power bipolar transistors we provide designers with additional voltage-current options in a robust DPAK package", said Pedram Zoroofchi, Product Manager at Nexperia.