Features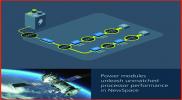 NewSpace demands low voltage, high current power for performance and longevity - Nov 2022
Matt Renola, Senior Director, Global Business Development – Aerospace & Defense
More details...
Power Electronics Europe News
Composite inductor lowers DCR and raises current
Believed to be the industry's first composite inductor in the 19 x 19 x 7.0mm 7575 case size, the Vishay Dale IHLP 7575GZ-51 operates at up to 155°C. It is also claimed to deliver lower DCR and higher current than 6767 devices and at a lower cost than inductors in the 8787 case.

The commercial IHLP, low profile, high current inductor can be used in computer, telecomms and industrial applications, for example include notebooks, desktops, and servers; low profile, high current power supplies, PoL converters, battery-powered devices and distributed power systems and FPGAs.
It offers up to 30% lower DCR and up to 35% higher current ratings than devices in the 6767 case size, at a 50% lower cost than devices in the 8787 case, says the company.
It is optimised for energy storage in DC/DC converters up to 2MHz and high current filtering applications up to the self resonant frequency (SRF) of the inductor.
The IHLP-7575GZ-51 inductor is packaged in a 100% lead (Pb)-free shielded, composite construction that reduces buzz noise. It offers high resistance to thermal shock, moisture, and mechanical shock and handles high transient current spikes without saturation. The device is RoHS-compliant and halogen-free.
Samples and production quantities are available now, with lead times of 10 weeks.
View PDF