Features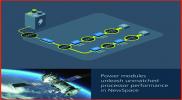 NewSpace demands low voltage, high current power for performance and longevity - Nov 2022
Matt Renola, Senior Director, Global Business Development – Aerospace & Defense
More details...
Power Electronics Europe News
Eight-channel ICs extend PCB trace lengths
The PI3UPI1608 ReDriver compensates for channel losses at the transmitter and improves signal integrity at the receiver and is optimised for high performance systems operating at elevated frequencies.
The IC with internal coupling capacitors has been added to the company's range of linear ReDriver ICs. The coupling capacitors save board area by avoiding the use of external components. It helps to "significantly extend PCB trace lengths", minimise power consumption and reduce bill of materials costs, says Diodes.
The IC has eight differential channels and supports speeds of up to 20Gbit/s. The UPI 2.0 and PCIe 4.0-compliant device has built-in coupling capacitors.
Programmable linear equalisation, output swing, and flat gain capabilities enable the IC to reduce bit error rates (BERs) and lower intersymbol interference (ISI) to extend channel reach across a variety of physical media. Programming can be via the pin-strap and I2C interface.
The PI3UPI1608 ReDriver IC runs off a 3.3V supply and has an operating temperature range of -40 to 85 degrees C. It is supplied in a 116-pin QFN package which measures 13 x 7mm).
Target applications include AI servers, data storage equipment, 5G networking infrastructure, and high-performance PCs, as well as CPU-to-CPU and CPU-to-storage interconnects.
View PDF