Features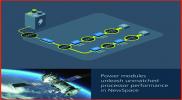 NewSpace demands low voltage, high current power for performance and longevity - Nov 2022
Matt Renola, Senior Director, Global Business Development – Aerospace & Defense
More details...
Power Electronics Europe News
Automotive-qualified diodes can replace SiC devices, says Power Integrations
The
QH12TZ600Q 600V diode is AEC-Q100-qualified and has the lowest reverse recovery charge (Qrr) of any 600V silicon diode, claims the company. It also offers the same low switching-loss performance as a silicon carbide (SiC) device without the higher price tag, says the company.
Automotive on-board charger applications require higher switching frequency to reduce volume and weight and the diode has a Qrr of just 14nC at 25°C which is half the Qrr of competing silicon diodes. It improves the efficiency of power factor correction (PFC) stages in the on-board charger while significantly reducing thermals in PFC MOSFETs.
Like our other Qspeed diodes, the QH12TZ600Q uses merged PiN and Schottky diode technology which has smooth reverse recovery current transition characteristics to increase efficiency, reduce EMI and peak reverse voltage stress, eliminating the need for snubbers when used as output rectifiers.
The diodes are available in the compact, 2.5kV isolated TO-220 package, for direct mounting to metal heat sinking and to optimise thermal performance. The diodes can be used as a single or interleaved continuous conduction mode (CCM) PFC boost diode or an output rectifier diode in on-board chargers.
View PDF