Features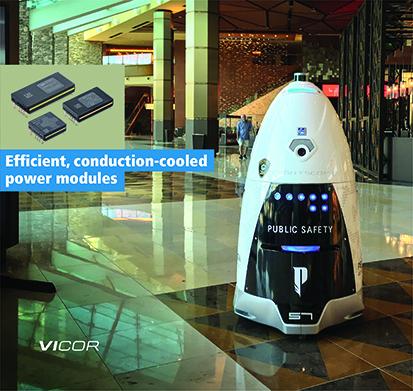 Knightscope's autonomous security robots patrol with superhuman acuity and detection prowess - May 2023
A fusion of innovative robotics, self-driving technology, vehicle electrification and artificial intelligence
More details...
AC/DC power factor correction module offers up to 1,512W
A full brick package developed by TDK-Lambda, the PF1500B-360, is for high voltage distributed power architectures
More details...
Power Electronics Europe News
Active Rectifying diode increases generator efficiency
The low loss Active Rectifying diode enables an increase in generator efficiency of up to 8% compared to conventional power conversion methods and facilitates generators to qualify as eco-innovations as defined by the EU, says Infineon. Deploying the diode can reduce a car's CO
2
emissions by up to 1.8g/km. It is a direct replacement for standard devices and so can be used in generators and cars that are already in series production.
Finn Felsberg, Vice President and General Manager Power Integration and Supply at Infineon's Automotive Division, said: "Given the still very large number of combustion engine cars, our new diode represents a quick and cost-efficient step for OEMs towards reaching strict fleet emission targets." For Bosch Oceania Vice President Automotive Electronics, Mark Jackman said "This innovative product perfectly fits in Bosch's range of robust and high quality automotive components 'Invented for Life'."
In a conventional car, the generator produces the electric energy for charging the battery and supplying a growing number of safety and comfort features such as driver assistance systems, air conditioning and infotainment. The Active Rectifying diode allows generators to achieve a power conversion efficiency beyond 80%, compared with levels of up to 72%.
The diode is based on a new chip technology from Infineon that integrates MOSFETs, capacitors and control logic on a single die. This single chip is assembled into the body of the diode in a pressfit package by Bosch. The diode has low diode forward voltage of 0.1V at 100A RMS and low leakage current. The simple assembly process contributes to a robust mechanical diode which provides EMC.
The diode is in production now and have been used in vehicles available on the market from the second half of 2020.
View PDF