Features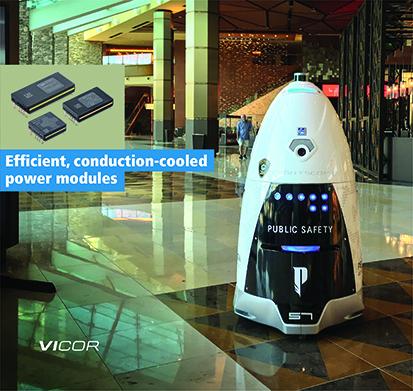 Knightscope's autonomous security robots patrol with superhuman acuity and detection prowess - May 2023
A fusion of innovative robotics, self-driving technology, vehicle electrification and artificial intelligence
More details...
AC/DC power factor correction module offers up to 1,512W
A full brick package developed by TDK-Lambda, the PF1500B-360, is for high voltage distributed power architectures
More details...
Power Electronics Europe News
The multi-channel, mixed-signal RF converters are available from Richardson RFPD with full design support. The integrated, high speed converters meet the demands of today's most challenging high-speed, ultra-wideband RF signal generation and transmit/receive applications, says the company.

The AD9081 and AD9082 mixed-signal front-ends combine analogue and digital signal processing (DSP). They allow designers to install multi-band radios in the same footprint as single-band radios.
ADI's MxFE platform processes more of the RF spectrum band and embeds DSP functions on-chip to enable the user to configure the programmable filters and digital up- and down-conversion blocks to meet specific radio signal bandwidth requirements. By shifting more of the frequency translation and filtering from the analogue to the digital domain, the AD9081 and AD9082 provide the software configurability to customise radios. The result is a reduction in power by a factor of 10 compared to architectures that perform RF conversion and filtering on the FPGA, says the distributor, while at the same time freeing up valuable processor resources or allowing designers to use a more cost-effective FPGA.
The AD9081 MxFE includes four 16-bit, 12Gsample/s RF DACcores and four 12-bit, 4Gsample/s RF ADC cores. The AD9082 MxFE includes four 16-bit, 12Gsample/s RF DAC cores and two 12-bit, 6Gsample/s RF ADC cores.
Both devices feature eight transmit lanes and eight receive lanes that support 24.75Gbit/s/lane JESD204C or 15.5Gbit/s/lane JESD204B standards. They are available in 15 mm x 15 mm BGA packages.
Suitable applications include wireless communications infrastructure, microwave point-to-point, E-band and 5G mmWave, broadband communications systems, DOCSIS 3.1 and 4.0 CMTS, phased array radar and electronic warfare and electronic test and measurement systems.
View PDF