Features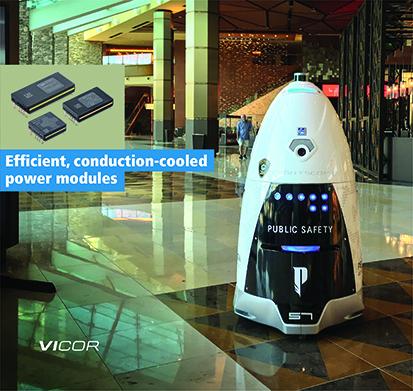 Knightscope's autonomous security robots patrol with superhuman acuity and detection prowess - May 2023
A fusion of innovative robotics, self-driving technology, vehicle electrification and artificial intelligence
More details...
AC/DC power factor correction module offers up to 1,512W
A full brick package developed by TDK-Lambda, the PF1500B-360, is for high voltage distributed power architectures
More details...
Power Electronics Europe News
Renesas Completes Acquisition of Dialog Semiconductor
Japanese Renesas Electronics Corporation announced on August 31 the successful completion of Renesas' acquisition of the entire issued and to be issued share capital of UK-based Dialog Semiconductor. Renesas will fund the cash consideration payable to Dialog shareholders of approximately EUR 4.8 billion (approximately 624.0 billion yen at an exchange rate of 130 yen to the Euro) through a combination of debt, cash on hand and the proceeds of an equity offering of approximately 222.6 billion yen. The closing of the acquisition of Dialog, following the acquisitions of Intersil and IDT, reinforces Renesas as a premier embedded solution provider. Renesas will expand its market presence with an even broader range of product portfolio by combining Dialog's low-power mixed signal products, low-power Wi-Fi and Bluetooth® connectivity expertise, flash memory, battery and power management as well as its long-standing experience and in-depth knowledge in providing configurable mixed-signal (CMIC) solutions and more.
Renesas anticipates incremental revenue growth of approximately USD 200 million (non-GAAP operating income, approximately 21.0 billion yen) from cross-selling and offering winning combinations. The combined company also expects cost savings from operational efficiencies to result in a financial impact of approximately $125 million (non-GAAP operating income per year on a run rate basis targeting to achieve in three years after close, approximately 13.1 billion yen). Renesas expects the acquisition to be accretive to Renesas' EBITDA and gross and operating margins (in each case, on a non-GAAP basis) after closing, consistent with prior guidance. With the transaction now closed, Dialog became a wholly owned subsidiary of Renesas. About 2,300 Dialog employees have joined Renesas Group, and the two companies will work together to integrate both businesses. "Today represents an important milestone for Renesas. This transaction builds on our long-term strategy to offer a complete set of solutions with more leading-edge analog and mixed signal products that deliver value and innovation to the customers," said Hidetoshi Shibata, President & CEO of Renesas. AS