Features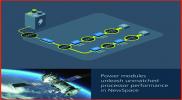 NewSpace demands low voltage, high current power for performance and longevity - Nov 2022
Matt Renola, Senior Director, Global Business Development – Aerospace & Defense
More details...
Power Electronics Europe News
Microchip adds non-volatile memory to smooth power up
I
mplementing multi-channel system control or signal outputs using DACs in portable and handheld industrial, communications, consumer or medical systems can result in the need for
significant processor overhead for device configuration during power up. The MCP47/48FxBx8 family of octal 12-bit DACs have non volatile memory and an integrated voltage reference (Vref) source, enabling them to be pre-configured for efficient power up without the system processor.
To deliver more capbilities in decreasing form factors, handhelds and other portable systems can use the DACs to eliminate processor overhead during power-up and provide the channel density, low power consumption and integrated features for compact systems to operate over longer periods using smaller, lighter batteries, explained the company.
Non-volatile memory allows the MCP47/48FxBx8 DACs to store user-customised configuration data even when powered down. At power up, all eight channels are configured to the pre-defined state.
An integrated Vref source reduces overall system size and complexity and provides the control to meet critical timing for safely driving all power outputs. For communication options, the devices have both SPI and I2C serial interfaces.
Operating range is 1.8V to 5.5V. The low minimum operating voltage and the DACs' power efficiency contribute to thermal performance and reliability. The DACs also provide power-on/brown-out reset protection and what is claimed to be one of the industry's fastest settling times (5µs). They also operate in the extended temperature range (i.e. -40 to 125°C) making them suitable for industrial and automotive applications.
The octal DACs are available now in 8-, 10- and 12-bit resolution and in a 20-lead VQFN 5.0 x 5.0mm package and a 20-lead TSSOP.
View PDF