Features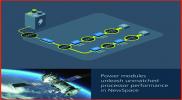 NewSpace demands low voltage, high current power for performance and longevity - Nov 2022
Matt Renola, Senior Director, Global Business Development – Aerospace & Defense
More details...
Power Electronics Europe News
Recom adds wide input and output voltage buck regulator modules
The two buck regulator power modules with wide input and output voltage ranges extend Recom's range of low cost power modules. They are available in miniature, thermally-enhanced 3.0 x 5.0mm QFN packages with 1.6mm profile and use 3D Power Packaging technology.

The over-moulded flip chip on leadframe (FCoL) construction has an integrated, shielded inductor. This is claimed to result in low EMI and high electrical and thermal performance. Each converter has an input range of 4.0 to 36V DC and an adjustable output between 0.8 and 30V DC, set by external resistors.
The RPX-1.0 is rated at 1.0A and the RPX-1.5 at 1.5A, each with typical full load efficiency of 87% and minimal light load losses. Depending on I/O voltage and load, peak efficiency can be over 95% and ambient operating temperature over 100°C.
The modules are fully protected against short circuit, over current, over temperature and input undervoltage. They also have enable, power good, soft start and external sync features. There are evaluation board for rapid testing of the RPX modules.
According to Recom's product manager, Matthew Dauterive: "The wide input and output ranges of these highly integrated parts are ideal for 5.0, 12, or 24V nominal systems in industrial and motor control, ATE, medical, imaging and high-density power systems".
Samples and OEM pricing are available from all authorized distributors or directly from Recom.
View PDF