Features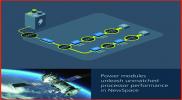 NewSpace demands low voltage, high current power for performance and longevity - Nov 2022
Matt Renola, Senior Director, Global Business Development – Aerospace & Defense
More details...
Power Electronics Europe News
PXG-M DC/DC converters meet medical and AV standards
The 15W and 20W board mount DC-DC converters are certified for medical and audio/video, information and communication technology equipment. They have 5,000V AC reinforced isolation between input and output and a wide input range. The compact industry standard 40.6 x 25.4mm (1.6 x 1.0 inch) package has a height of 10.2mm (0.4 inch) is suitable for medical, battery powered equipment and industrial applications.
The DC/DC converters accept either a 9V to 36Vdc or 18V to 75V DC input. There is a range of output voltages: 5.0, 12, 15, 24, ±5, ±12 and ±15V DC. Operation from 12V and 24V, or 24V and 48V nominal inputs reduces inventory and improves part availability, says the company.
Operating ambient temperature is -40°C to 105°C, with de-rating above 55°C for convection cooled environments, or above 90°C with forced air cooling. Positive or negative logic remote on-off is optional. Over-current, over-voltage and over-temperature protection is standard on all models. Off-load input current consumption is 12mA or less, which makes them practical for battery-powered products.
For medical applications, the converters have an input to output isolation of 5,000V AC (2 x MOPPs) and less than 2.5μA touch current.
In addition to IEC/EN 60601-1, ANSI/AAMI ES60601-1 and IEC/EN/UL/CSA 62368-1, they have CE marking for the Low Voltage and RoHS directives. No external EMI filtering components are required for compliance to EN55011‑A and EN55032‑A.
View PDF