Features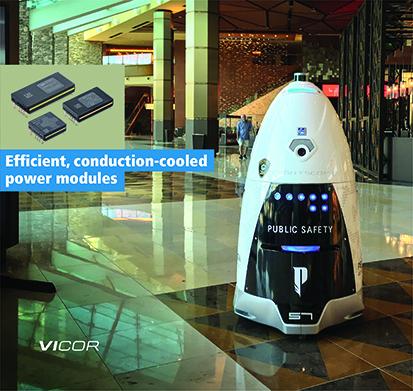 Knightscope's autonomous security robots patrol with superhuman acuity and detection prowess - May 2023
A fusion of innovative robotics, self-driving technology, vehicle electrification and artificial intelligence
More details...
AC/DC power factor correction module offers up to 1,512W
A full brick package developed by TDK-Lambda, the PF1500B-360, is for high voltage distributed power architectures
More details...
Power Electronics Europe News
EPC adds automotive-qualified eGaN FET for lidar systems
The AEC Q101-qualified EPC2214 is designed for lidar and radar systems in vehicles as well as harsh environments, such as data centre computers, infotainments systems and high intensity headlamps for trucks.
The 80V, 20mΩ, eGaN FET has a 47A pulsed current rating in a 1.8mm2 footprint. It is suitable for firing the lasers in lidar systems because the FET can be triggered to create high-current with extremely short pulse widths, explains the company. The short pulse width leads to higher resolution, and the higher pulse current allows the lidar system to discern objects at greater distances. The eGaN FET is also suitable for radar and ultrasonic sensors.
AEC Q101 testing consists of environmental and bias-stress testing, including humidity testing with bias (H3TRB), high temperature reverse bias (HTRB), high temperature gate bias (HTGB), temperature cycling (TC), as well as several other tests. The company reports that its WLCS packaging passed all the same testing standards created for conventional packaged parts, demonstrating that the chip-scale packaging does not compromise ruggedness or reliability. The eGaN FETs are available for immediate delivery from the global distributor, Digi-Key.
Visit EPC at PCIM Europe 2019 Hall 7-335 and Hall 9-440
View PDF