Features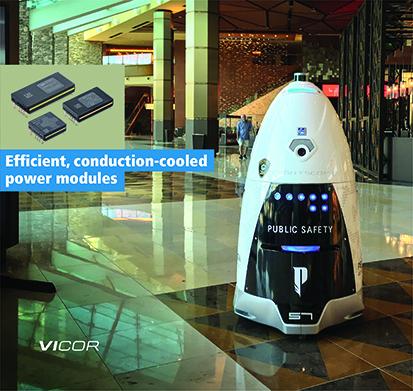 Knightscope's autonomous security robots patrol with superhuman acuity and detection prowess - May 2023
A fusion of innovative robotics, self-driving technology, vehicle electrification and artificial intelligence
More details...
AC/DC power factor correction module offers up to 1,512W
A full brick package developed by TDK-Lambda, the PF1500B-360, is for high voltage distributed power architectures
More details...
Power Electronics Europe News
Infineon extends IGBT modules for scalable designs
The XHP 3 package targets designs that range from 3.3 to 6.5kV for compact and scalable inverter designs. The symmetrical design with low stray inductance offers significantly improved switching behaviour, says the company, making it suitable for high and medium voltage applications, traction and commercial, construction and agricultural vehicles.
The package is a compact 140 x 100 x 40mm. The initial IGBT modules feature a half bridge topology with a blocking voltage of 3.3kV and a nominal current of 450A. Two isolation classes are being launched simultaneously, the 6kV (FF450R33T3E3) and 10.4kV (FF450R33T3E3_B5) isolation models. Ultrasonic welded terminals, aluminum nitride substrates and an aluminium silicon carbide baseplate contribute to a reliable and robust module, says the company.
System designers can adapt the desired power level by paralleling the required number of XHP 3 modules. Pre-grouped devices with a matched set of static and dynamic parameters mean that de-rating is not required when paralleling up to eight devices.
Visit Infineon at PCIM Europe 2019 Hall 9-313
View PDF