Features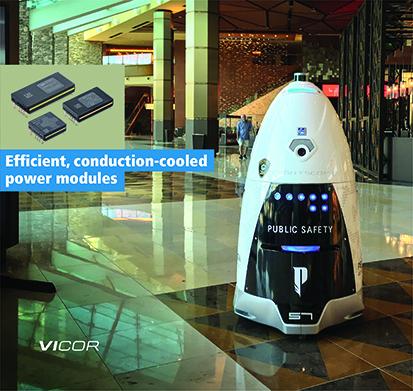 Knightscope's autonomous security robots patrol with superhuman acuity and detection prowess - May 2023
A fusion of innovative robotics, self-driving technology, vehicle electrification and artificial intelligence
More details...
AC/DC power factor correction module offers up to 1,512W
A full brick package developed by TDK-Lambda, the PF1500B-360, is for high voltage distributed power architectures
More details...
Power Electronics Europe News
SiC MOSFET gate driver claims fast shutdown for inverters
Power Integrations has added the SIC118K single-channel SiC MOSFET gate driver that delivers, it claims, the highest peak output gate current available without an external boost stage. The drivers can be configured to support different gate drive voltage requirements matching the range of requirements seen in today's SiC MOSFETs.
They gate driver offers up to 8A output at a junction temperature of 125°C, sufficient to support SiC-MOSFET inverter designs up to several hundred kW without a booster stage, says the company. This results in high system efficiency and customers need only produce only one design to cover a portfolio of differently-rated power inverters. A switching frequency of up to 150kHz supports multiple applications.
The SiC gate drivers feature the company's high speed communications FluxLink technology to improve isolation capability. The technology replaces optocouplers and capacitive or silicon-based solutions to "significantly improve" reliability and deliver reinforced isolation up to 1200V. All Scale-iDriver devices include system-critical protection features such as desaturation monitoring and current sense read out, primary and secondary under-voltage lock-out (UVLO) and advanced active clamping (AAC). The protection circuits provide safe shut down within 5ms, meeting the fast protection needs of SiC devices. The package provides ≥9.5mm of creepage and clearance, for high external magnetic field immunity and uses material that has the highest CTI level, CTI600, to IEC60112.
These latest SiC gate drivers meet IEC60664-1 isolation coordination for low voltage equipment below 1000 V and IEC61800-5-1 electric motor drive inverter regulations. UL 1577, 5kVAC for 1 min, is pending and VDE0884-10 is in process.













---
View PDF