Features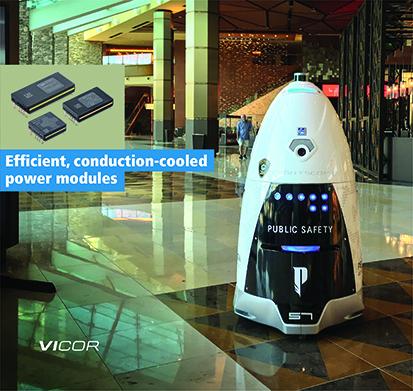 Knightscope's autonomous security robots patrol with superhuman acuity and detection prowess - May 2023
A fusion of innovative robotics, self-driving technology, vehicle electrification and artificial intelligence
More details...
AC/DC power factor correction module offers up to 1,512W
A full brick package developed by TDK-Lambda, the PF1500B-360, is for high voltage distributed power architectures
More details...
Power Electronics Europe News
Inductors have low DCR for multi-phase supplies
The IHSR-1616AB-01 inductors have been added to the IHSR series of high saturation commercial inductors. The 4.0 x 4.0mm inductors are designed for multi-phase, high current power supplies and filters in computer, industrial, and telecomms applications.
The inductors offer a 50% reduction in DCR over typical power inductors and standard DCR tolerance of 5%, with 3% tolerance available for more accurate current sensing.
The inductors have a frequency range up to 5MHz and is optimised for energy storage in DC/DC converters and high current filtering up to the self-resonant frequency (SRF) of the inductor (418 to 856MHz). Target applications include notebooks, desktop PCs, and servers, low profile, high current power supplies and filters; and DC/DC converters for distributed power systems.
Low typical DCR down to 1.15mΩ and inductance up to 0.068µH allow for higher current density than competing technologies. The inductors offer high temperature operation to 125°C, rated current to 62A, and handles high transient current spikes without saturation.
Packaged in a 100% lead (Pb)-free shielded, composite construction claimed to reduce buzz noise, the inductor offers high resistance to thermal shock, moisture, and mechanical shock. The inductors are RoHS-compliant and halogen-free.
View PDF