Features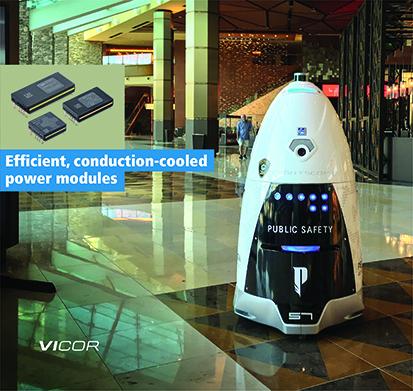 Knightscope's autonomous security robots patrol with superhuman acuity and detection prowess - May 2023
A fusion of innovative robotics, self-driving technology, vehicle electrification and artificial intelligence
More details...
AC/DC power factor correction module offers up to 1,512W
A full brick package developed by TDK-Lambda, the PF1500B-360, is for high voltage distributed power architectures
More details...
Power Electronics Europe News
GaN transistors targets consumer products
The
3.5 to 11A transistors have been developed for sub-1kW power applications in consumer products, such as AC adapters for gaming and workstation laptops, TV power, LED lighting, wireless power systems, and appliance motor drives.
They use the 650V enhancement mode GaN HEMTs. The devices are packaged in thermally efficient, low cost PDFN packages with small footprint (5.0 x 6.0mm). Depending on the device, ratings are 3.5, 8.0 and 11A, ranging in RDS(on) from 500 to 150mΩ. According to the company, design benefits include low inductance and three parts in the same small footprint.
The company offers a range of discrete devices to maximise design freedom, accommodate varied power levels and allow power system engineers to maintain design control and change parameters to meet specific requirements, such as EMI emissions.
An evaluation kit for these transistors, the EZDrive circuit demonstrates a circuit design that eliminates the need for a discrete driver to reduce the number of components. It is also claimed to be easy to implement and adaptable to many power levels, switching frequencies, and LLC/PFC controllers.
Using GaN transistors result in AC adapters that are five times smaller and wireless charging solutions that have 50 times more wireless transfer transmit power than is possible with silicon, explains the company.
The company is displaying these transistors at the Applied Power Electronics Conference (APEC) in Anaheim, California (17 to 21 March)
View PDF