Features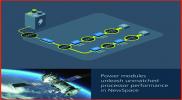 NewSpace demands low voltage, high current power for performance and longevity - Nov 2022
Matt Renola, Senior Director, Global Business Development – Aerospace & Defense
More details...
Power Electronics Europe News
100V eGaN power transistor is x30 smaller than comparable silicon
The transistor has 97% efficiency at a 4.0A output while switching at 500kHz. It is capable of 37A pulsed in a small, 1.3 x 0.85mm (1.1mm2) chip-scale package.
These transistor can be used for 48V power converters, for computing and telecomms systems, lidar, LED lighting and Class D audio. Despite the size, it operates in a 50 to 12V buck converter, and is claimed to bring the performance of GaN FETs at a price comparable to silicon MOSFETs.
"The 100 V, EPC2051, is 30 times smaller than the closest silicon MOSFET," said Efficient Power Conversion (EPC) CEO, Alex Lidow.
A development board, the EPC9091, is a 100V maximum device voltage, half bridge that features the EPC2051, and the UP1966A gate driver from uPI Semiconductor. This 50.8 x 50.8mm board is designed for optimal switching performance and contains all critical components for easy evaluation of the 100V EPC2051 eGaN FET.
Both the FET and development board are available for immediate delivery from distributor, Digi-Key.
View PDF