Features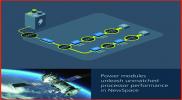 NewSpace demands low voltage, high current power for performance and longevity - Nov 2022
Matt Renola, Senior Director, Global Business Development – Aerospace & Defense
More details...
Power Electronics Europe News
PCIM Europe 2019 issues call for papers
The organisers are inviting speakers to submit abstracts of papers by 15 October 2018.
Forward-thinking experts in the field of power electronics are being sought to inspire an audience of over 800 conference attendees with the latest developments and research findings.
There will be a Best Paper Award, and the recipient will receive €1,000.
Topics to be covered include Power Semiconductors, Thermal Management, Packaging and Reliability in Packaging, Control and Drive Strategies in Power Converters, Low Power Electronic Converters, High Power Electronic Converters, Power Electronics in Transportation Applications, Motors and Actuators, Control Techniques in electrical drives, motion control and drives in automation, New and Renewable Energy Systems, Energy Storage Technologies, Power Systems and Smart Grids, Power Quality and EMC, Software Tools and Applications, Transducers and Sensors, Passive Components, Reliability, Communication and Cybersecurity in Power Electronics.
Successful applicants will be notified in January 2019 and full manuscripts will need to be submitted by 4 March 2019.
PCIM Europe 2019 will take place at Messe Nuremberg, Germany from 7 to 9 May 2019.

Last year's PCIM Europe attracted over 11,600 visitors, over 500 exhibitors and 800 conference delegates.
View PDF