Features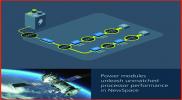 NewSpace demands low voltage, high current power for performance and longevity - Nov 2022
Matt Renola, Senior Director, Global Business Development – Aerospace & Defense
More details...
Power Electronics Europe News
Qi transmitter controls multiple coils to free precise positioning
The STMicroelectronics 15W transmitter can control multiple charging coils, making charging less dependent on precise positioning. The transmitter complies with the Qi 1.2.4 specification, and is, claims the company, the first transmitter specifically designed to support the Qi MP-A15 EPP (Extended Power Profile) topology.
In addition to detecting a valid receiver and selecting the most efficient coil for power transfer, the transmitter ensures extended foreign object detection (FOD) through bi-directional communication with the receiver. The transmitter also supports the proprietary wireless fast-charge extensions of leading smartphone manufacturers, adds the company.
By monitoring coil current and voltage, the transmitter is claimed to ensure fast and stable charging for all types of devices. By integrating a digital DC/DC controller, it delivers the required power to the coil at a fixed frequency and so minimises interference with other systems inside smartphones and tablets. The company also points out that the low EMI design will ease compliance for the expected extended scope of the Radio Equipment Directive (RED) to include wireless-charging transmitters, and restrict H-field emissions above 145kHz to -5dBm.
The patented triple-path modulation technique for communication between the transmitter and receiver increases noise immunity, says the company, and the IC's low standby consumption minimises wasted energy when not charging.
An evaluation kit, the STEVAL-ISB047V1, is also available for the transmitter and the STSW-STWBCGUI graphical user interface for the STWBC transmitter ICs. The GUI can be used to download the STSW-ISB047FW dedicated firmware for the STWBC-MC, and to monitor performance and fine-tune parameters.
View PDF