Features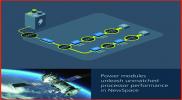 NewSpace demands low voltage, high current power for performance and longevity - Nov 2022
Matt Renola, Senior Director, Global Business Development – Aerospace & Defense
More details...
Power Electronics Europe News
Compact buck DC/DC converters can be used in assisted driving systems
The BD9S400MUF-C, BD9S300MUF-C, BD9S200MUF-C, BD9S100NUX-C and BD9S000NUX-C have a low power consumption and operate in the -40 to 125° temperature range. The converters are offered in a leadless package with wettable flanks, making them suitable for use in automotive applications such as radars, cameras and sensors which can be used for assisted driving.

The BD9S series of automotive-grade power supply ICs include an enable function to adjust the start-up time and a 'pgood' output indication to improve system functional safety.

Converters in the series support output currents from 0.6 to 4.0A and are offered in space saving 2.0 and 3.0mm² packages, claimed to deliver high efficient operation and resulting in a best-in-class power conversion efficiency of 90% (at 3.6V input/1.8V output).
The current mode control ensures fast response to load transients and, combined with a fixed 2.2MHz switching frequency, prevents interference in the AM band, says the company. This higher frequency allows the use of smaller external components, contributing to both miniaturisation and power savings.

Target applications are advanced driver assistance system (ADAS) sensors, cameras, and radars and drive recorders.
View PDF