Features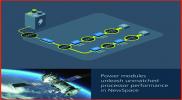 NewSpace demands low voltage, high current power for performance and longevity - Nov 2022
Matt Renola, Senior Director, Global Business Development – Aerospace & Defense
More details...
Power Electronics Europe News
Infineon adds IGBT in TO-247PLUS package
The devices are co-packed with a full rated diode in a TO-247PLUS package. The three- and four-pin packages serve the growing demand for higher power density and highest efficiency in discrete packages, says the company. Typical applications with a blocking voltage of 1200V requiring high power density are drives, photovoltaic, and uninterruptible power supplies (UPS). They can also be used in battery charging and energy storage systems.

Compared with a TO-247-3 package, the TO-247PLUS package can provide double current rating. The screw hole has been removed, making a larger lead frame area which can accommodate bigger IGBT chips. The 75A 1200V co-packed IGBTs are available with the same small footprint. The larger lead frame provides a lower thermal resistance of the TO-247PLUS package, improving heat dissipation capability.

To improve the switching losses, the TO-247PLUS four-pin package features an extra Kelvin emitter source pin. This allows for an ultra-low inductance gate-emitter control loop and reduces the total switching losses E (ts) by more than 20%. The 1200V IGBTs can be used to increase the system power density and reduce the number of power devices used in parallel, to increase system efficiency or improve system thermal conditions.


View PDF