Features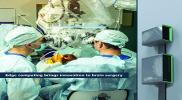 Edge Computing Leverages Modular Power in Scalable Micro Data Centres - May 2022
Edge computing is essential to realizing the full potential of artificial intelligence (AI), machine learning and internet of things (IoT). These technologies are being infused into every corner of...
More details...
Power Electronics Europe Events
CIPS 2022 Focuses on Power Integration
February 9, 2022 - March 18, 2022
The 12th International Conference on Integrated Power Electronics Systems (CIPS) will be held from March, 15 – 17 in Berlin, Germany. For those of you who cannot attend the conference in-person, a live streaming is provided as well. The conference is chaired by Leo Lorenz and Thomas Harder from the European Center of Power Electronics (ECPE).
In the next decades, power electronic system development will be driven by energy saving systems, intelligent energy management, power quality, system miniaturization and high reliability. Monolithic and hybrid system integration will comprise advanced device concepts including wide bandgap devices, new packaging technologies and the overall integration of actuators/drives (mechatronic integration).
CIPS is focused on the main aspects such as
ƒassembly and interconnect technology for power electronic devices and converters

ƒintegration of hybrid systems and mechatronic systems with high power density

ƒsystems' and components' operational behaviour and reliability
Basic technologies for integrated power electronic systems as well as upcoming new important applications will be presented in interdisciplinary invited papers.
Conference topics
Applications are wide spread over areas such as transportation; ƒpower electronics in the grid, in particular for renewable energy such as wind and solar as well as drives and power supplies.
1. Components to be integrated
- advanced silicon devices and monolithic integration
- wide bandgap devices and monolithic integration
- gate drivers
- passive components
- sensors and actuators
2. General aspects of packaging
- system and component packaging
- assembly concepts, embedded power, 3D integration
- new materials and interconnects
- additive manufacturing
- high voltage insulation
- design for high temperature applications
- cooling concepts
- interface materials
- multi­domain CAD (electrical, thermal, mechanical, chemical)
as design tool
3. Power packages and modules
- bare chip packaging
- discrete semiconductor packages
- hermetic semiconductor packages
- power semiconductor modules
- heterogeneous integration, power system­-in­-package
4. System and application aspects
- mechatronic systems and their applications
- integration of power electronics into electric machines
- challenges of fast switching on circuit/system level – winding insulation, bearing currents,
earth leakage, touch current, ...
- integration with sensors and actuators
- overall system optimisation
5. Reliability and availability
- reliability requirements, mission profiles
- robustness validation, physics of failure, failure analysis
- modelling and simulation of lifetime
- intelligent reliability testing
- prognostics and health management
- fault tolerant designs and applications
6. Clean switching, electromagnetic compatibility (EMC)
- parasitics and interferences; design for low inductance, coupling capacity
- electrodynamically optimised design
- optimised control through driving scheme filters