Features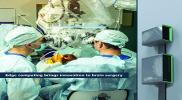 Edge Computing Leverages Modular Power in Scalable Micro Data Centres - May 2022
Edge computing is essential to realizing the full potential of artificial intelligence (AI), machine learning and internet of things (IoT). These technologies are being infused into every corner of...
More details...
Power Electronics Europe News
A board-mounted converter from Advanced Energy is designed to simplify operation in industrial and telecoms applications....
The 5V 32bit MCUs suppress EMI noise and enable fast communication for industrial equipment and robotics, says Renesas....
Recom has launches a compact 500W DC/DC converter for off-highway e-mobility applications in sport and construction....
Inductors from Vishay Intertechnology are based on powdered iron alloy core technology and available in a 1107 case size....
The D2PAK-7L package is suitable for rapidly growing applications in the automotive and enterprise sectors....
A robust 7/8-inch connector by binder has received UL approval. It has a universal mating interface for automation technology...
Three DSN1006 and DSN1010 12V and 30V MOSFETs by Nexperia are efficient in limited space designs...
The synchronous boost converter has programmable modes to increase efficiency in consumer or industrial devices....
The executive summit taking place in London, 15 & 16 November 2022 will discuss what is driving energy transition leadership...
The low RDS(on) transistors increase power density in spaceborne and hi-rel environments...