Features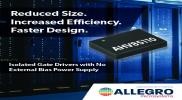 Solving the Challenges of Increasing Power Density By Reducing Number of Power Rails - March 2023
By Andy Wang, Business Line Director, High-Voltage Power Business Unit Allegro MicroSystems
More details...
AC/DC power factor correction module offers up to 1,512W
A full brick package developed by TDK-Lambda, the PF1500B-360, is for high voltage distributed power architectures
More details...
Power Electronics Europe News
Nexperia says its surface mount LFPAK88 packaging reduces the footprint for application-specific MOSFETs (ASFETs)...
The GaN portfolio available at Anglia Components has expanded with a distribution deal with Efficient Power Components (EPC)...
The exhibition & conference will cover an historically large area of 30,000 m² with international exhibitors & presentations....
The PLN0xx-ED21 series by Bourns provides high volumetric power density and low loss in a low profile design....
Nexperia has introduced six in-vehicle network ESD (electrostatic discharge) protection devices for 24V board net systems....
Alpha and Omega Semiconductor introduces the AOZ7203AV to the AlphaZBL AC/DC active bridge rectifier family....
The primary LDO regulators by Rohm maintain power for core functions even in the event of a vehicle system malfunction....
The Canadian company will reinforce Infineon's role and expand its GaN portfolio said the German semiconductor giant....
EPC offers the EPC9177 synchronous buck converter design board for high density, low profile DC/DC converter designs...
The open frame, high power density GHA700F measures 76.2 x 38.1 x 127mm and has optimised thermal conduction....