Features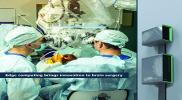 Edge Computing Leverages Modular Power in Scalable Micro Data Centres - May 2022
Edge computing is essential to realizing the full potential of artificial intelligence (AI), machine learning and internet of things (IoT). These technologies are being infused into every corner of...
More details...
Power Electronics Europe News
The AOZ8S212UD4, AOZ8S321UD4, and AOZ8S306BD4 transient voltage suppressors (TVS) are for high-speed line protection....
Littelfuse's SP1250-01ETG provides 50A high surge resistance, with low clamping performance to protect consumer devices....
Adding NVM to DACs eliminates processor overhead experienced at power up in portable and handheld devices, claims the company...
The PS508 and PS509 multiplexers from Diodes support industrial IoT applications which use multiple sensors....
Flex Power Modules announces the BMR683 series of digital PMBus DC/DC converters for 5G networks....
The 650V CoolMOS CFD7 performs in resonant topologies to meet the need for efficiency and power density in industrial design ...
The RB series of power supplies for mid-size robotics and factory automation now includes one with triple isolated outputs...
The AOZ531x DrMOS (driver and MOSFET) devices have been announced by Alpha and Omega Semiconductor (AOS)....
The distributor now offers the 1200V, N-channel SiC-based MOSFETs from ON Semiconductor for an array of application uses....
The UMR-AA and UMR-A series of high voltage power supplies from Dean Technology have V05 and V10 interface options...