Features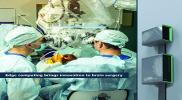 Edge Computing Leverages Modular Power in Scalable Micro Data Centres - May 2022
Edge computing is essential to realizing the full potential of artificial intelligence (AI), machine learning and internet of things (IoT). These technologies are being infused into every corner of...
More details...
Power Electronics Europe News
A package option for the A115x two-wire unipolar Hall-effect switches is available from Allegro MicroSystems Europe....
More accurate measurements for modern inverters...
Innoswitch-EP contains 725-V power MOSFET...
The TB9081FG IC from Toshiba has integrated safety and detection circuits for high functional safety in vehicles....
A current mode, 2MHz step-up DC/DC converter from Linear Technology operates from an input range of 3.0 to 40V....
Intersil claims to have developed the industry's first 80A fully encapsulated digital DC/DC PMBus power module....
The global power module market is projected to be nearly one third of the power semiconductor market by 2019, reports IHS....
Freescale expands its hardware- and software-compatible battery cell portfolio with a three- to six-cell Li-Ion controller....
According to EPC, the EPC2039 is sized, and priced, for wireless power transfer and other high frequency applications. ...
Two DC/DC buck converters from Diodes uses a light-load algorithm to improve efficiencies....