Features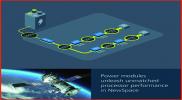 NewSpace demands low voltage, high current power for performance and longevity - Nov 2022
Matt Renola, Senior Director, Global Business Development – Aerospace & Defense
More details...
Power Electronics Europe News
The EPC9059 development board from Efficient Power Conversion (EPC) demonstrates how eGaN technology in PoL converters....
RKZ DC/DC converters from Recom are available through Dengrove Electronic Components, which introduces a 24V input option....
A power conversion module combining the functions of a rectifier, an inverter and a "static transfer switch" in one box ...
Constant power output profile through adaptive-voltage protocol...
Pulse Oximeter and Haert Rate Sensor for vital-sign monitoring...
Extended range switching regulators from Recom are available from Dengrove Electronic Components....
The research project E2SG (Energy to Smart Grid) lays the foundations for a more secure, stable smart grid....
The S6Bl111A LED driver makes LED front lighting systems smaller and more cost effective, says Cypress Semiconductor....
Vicor has released a family of high density PFM AC/DC front-end modules in the rugged VIA package....
Single-chip protection for one-cell Li-Ion (Li ) and lithium-polymer batteries, the AP9214L has been introduced by Diodes....