Features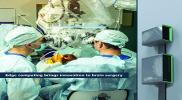 Edge Computing Leverages Modular Power in Scalable Micro Data Centres - May 2022
Edge computing is essential to realizing the full potential of artificial intelligence (AI), machine learning and internet of things (IoT). These technologies are being infused into every corner of...
More details...
Power Electronics Europe News
Inverter IPMs (integrated power modules) from ON Semiconductor have an internal bootstrap circuit for high side gate drive. ...
A GaN half bridge from EPC (Efficient Power Conversion) can increase efficiency and power density for buck converter systems....
A 10W wireless charging receiver and transmitter for Qi-compliant devices have been released by Texas Instruments....
The InnoSwitch IC family offers the best of both worlds, says Power Integrations, for switch-mode power supply design. ...
Infineon Outperformes The Market...
The iW1770 primary-side controller provides higher peak power to allow designers to create small, high power adapters....
Nine Enpirion power SoCs, including step-down ICs, by Altera are automotive-qualified....
Analog Devices claims that its dual D/A converters are an industry first – delivering 2.8Gsample/s....
In Munich (electronica 2014 – Hall A5 – stand 320) the company will announce additions to its portfolio....
The InnoSwitch family of switcher ICs from Power Integrations uses FluxLink safety-isolated technology....